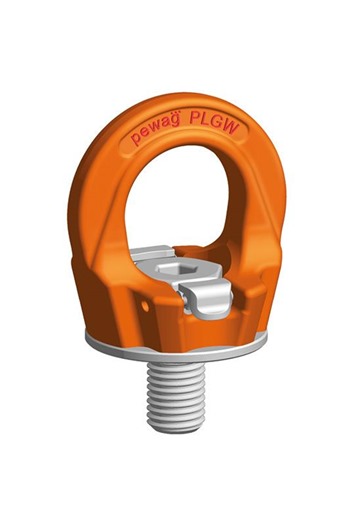 Special Offer Pewag PLGW M12 Prolift Gamma Supreme Lifting Point
Product Code:
SO-PLGW-0.7
Product Info
Specifications
Price Breaks
Special offer Pewag PLGW M12 Prolift Gamma Supreme Lfiting Point - cancelled order - 2pcs available
The PLGW lifting point has been developed and manufactured according to the very latest standards
This patented system has proven itself from the beginning and promises unsurpassed ease of use
The eyebolt is 360° rotatable, comes with an interchangeable special screw that is 100% crack tested and finished with a chrome VI free corrosion protection
The supreme model is tool-free assembly and disassembly Lifting Point. When the latch is open, it is held open with a patented spring and is rotatable. When the latch is closed, it is held in place with the patented spring and is not rotatable which means it can be mounted and removed
This lifting point can be mounted hand tight using a standard Allen key then aligned in the load direction. However, if the lifting point is to be utilised in a more permanent application the torque settings in the load table must be observed
Each lifting point is marked with an individual serial number, the load capacity and the thread size. A batch number is also displayed on all load bearing parts such as the eye and screw. All of these factors make identification and traceability for mandatory regular inspections easier than ever
M12 thread
Exclusive Web Only Price!
Was:
£69.09
£57.58 (ex VAT)
Ask SafetyLiftinGear a Question
Login or Register to Ask a Question